Webstep is an IT services company. We are an expert house developing digital solutions for more than 250 clients, spanning multiple industries.
Our senior consultants have broad experience and deep knowledge in a wide range of disciplines, such as software development, design and user experience, analytics, business intelligence and technology management.
Located in 9 major cities in Norway and Sweden, we believe in the power of local presence. Our distributed business model provides expertise and capacity to clients locally, and can be further fueled through a combination of local and remote work.
Our full organizational capacity and setup ensure scalability and operational flexibility in all customer engagements. Regardless of whether our clients want team deliveries, turnkey solutions or if they need to hire IT experts, we are there to support them – wherever they are.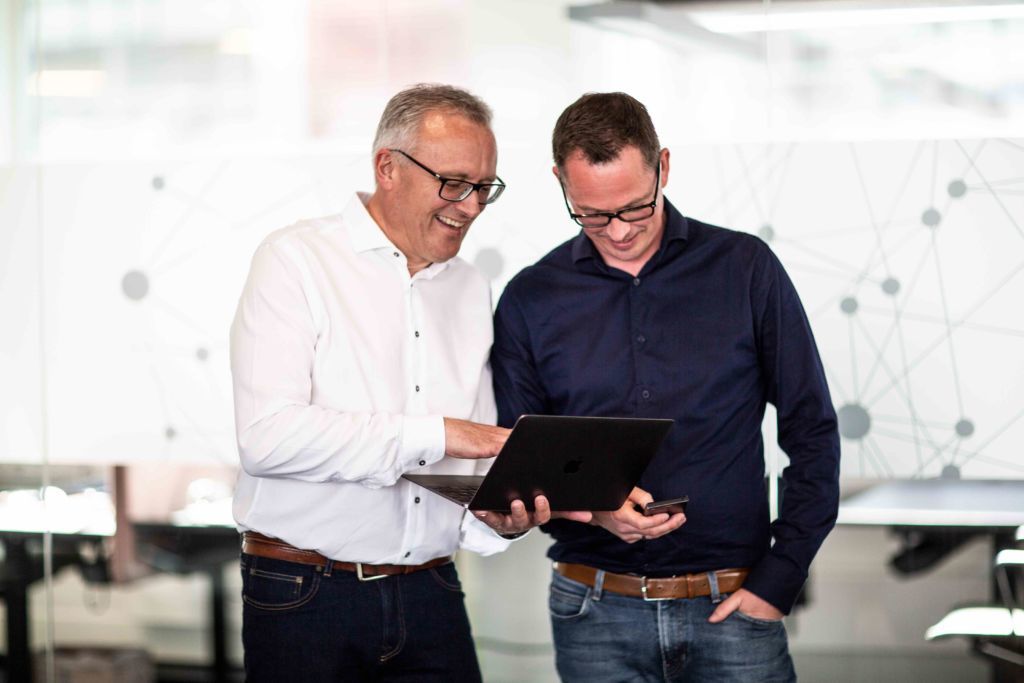 9

Departments in Norway and Sweden

11

Average years of employee experience

888

Annual turnover (MNOK) 2022

11

Years on top 10 - Great Place to Work

25

Nationalities of the Employees

250

Average number of active clients
Webstep ASA – Board of Directors:
Set out below are brief biographies of the Webstep ASA board members, including their relevant management expertise and experience:
Kjetil Bakke Eriksen, Chair
Kjetil Bakke Eriksen, born in 1968, and CEO of Webstep from 2006 – 2019, has previously served on the board of directors of Webstep and as chair of the board in several subsidiaries of Webstep.
Mr. Eriksen has over 25 years of experience in consulting. He has further management experience from Norske Systemarkitekter AS. Mr. Eriksen currently chairs and serves on the board in several companies. He holds a B.Sc. from The Norwegian School of Information Technology.
Mr. Eriksen is an independent board member, and holds 26.925 shares in the company, through Suelo AS, as of september 2021.
Siw Ødegaard, Board Member

Siw Ødegaard, born in 1966, has served as board member and member/head of audit committee since the IPO in 2017.
Ødegaard is a professional board member. She has previously held executive positions like CFO and Head of IR at EcoOnline Global, CEO and CFO of Ayfie Group and CFO and EVP M&A and IR at Link Mobility Group. She has also extensive and broad board experience, and currently holds board positions and head audit commitees in Webstep ASA, Nordic Unmanned ASA and Lexit Group AS.
Ødegaard holds an IB from United World College of the Adriatic in Italy, a BA from the University of London in the UK, and a Master of Management program from BI in Norway. She is currently participating in INSEAD's Executive Board Programme.
Ødegaard is an independent board member, and holds 13.025 shares in the company as of June 2023, through Kvinnesiden AS.
Anna Söderblom, Board Member
Anna Söderblom, born in 1963, is a professional board member as well as a teacher and researcher at the Stockholm School of Economics.
Ms. Söderblom has previously held senior managerial positions at Microsoft Nordic, Sweden Post, and Industrifonden, among others. She is currently chairperson and board member of six other companies, including Proact IT Group AB, BTS Group AB, and Dedicare AB. Previous board assignments include B3 Consulting Group, Avega Group, and Readsoft. She holds a B.Sc. in mathematics from Lund University and a Ph.D. in business administration from Stockholm School of Economics.
Ms. Söderblom is an independent board member.
Kari Mette Toverud, Board Member
Kari Mette Toverud, born in 1967, is a professional board member and an experienced leader. She has held executive positions for several years – including Communication and HR Director at Norkart, Communication, Marketing and HR Director at Ventelo, Broadnet and Network Norway. She has also served as HR Director at Telenor Mobil and Telenor Nordic Mobile.
Toverud has extensive board experience and currently holds board positions at NextGenTel as, Univid asa, Bitpro as, TotalCtrl as, Gobi as and KatrinUri as. She holds a Master of Business and Marketing from BI Norwegian Business School.
Ms. Toverud is an independent board member.
Kjell Magne Leirgulen, Board Member
Kjell Magne Leirgulen, born 1974, is CEO of Embron Group AS, a position he has held since September 2022. He was previously CEO of InfoCare, as well as director of Sales and Customer Service at Posten Norge AS.
Mr. Leirgulen serves as chairperson of the board of directors in a number of companies. He holds a BSc. degree in economics from BI Norwegian Business School.
Leirgulen is, as mentioned, the CEO of Embron Group AS, which is a related party to the Company's largest shareholder, J.C. Broch AS, which together with its related parties owns 8,312,727 shares in the Company (amounting to approximately 30%).
Through KML Invest AS, a fully owned company of Kjell Magne Leirgulen, he also holds 25.000 shares.
David Bjerkeli, Board Member
David Bjerkeli, born in 1987, has management consulting experience from Sopra Steria, and as a management consulting department leader in Protector Forsikring.
Mr. Bjerkeli holds a MSc degree in Business and Economics (Siviløkonom) from Handeshøyskolen BI, and currently works as an investor and analyst in Hvaler Invest, a family-owned investment company, in which he owns about 25% of the shares.
Considering Webstep ASA, David Bjerkeli is associated with Hvaler Invest, which owns 1,735,018 shares. Separately he owns 11.500 shares through Fjellhammer Invest AS.
Bendik Nicolai Blindheim, Board Member
Bendik Nicolai Blindheim, born in 1976, is a Partner at ISCO Group since 2014, and held the position as Managing Partner from 2018-2022.
He has 15 years of experience within Executive search and leadership consulting, and advise owners, boards and executives in strategic and organisational matters.
Mr. Blindheim currently serves at the board for LØRN and holds a BSc. from Oslo University College in Computer Science and Executive education from Harvard Business School.
Mr. Blindheim is an independent board member.
Webstep develop for tomorrow – through valuable cooperation between people and technology, in everyday life, in business and in society.

We live by our core valueas Skilled, Innovative, Uncomplicated and Generous.

Skilled means we are knowledgeable and dedicated. We build competence and always make sure to deliver high quality.

Innovative make sure that we head for tomorrow, with exploratory, open minds – curious and playful and without fear.  We believe in initiatives, simplicity, opportunities and solutions.
Uncomplicated make sure that we go forward with open and honest minds. We make sure that we handle expectations and culture with care, that we fit in, and offer energy and solutions.

Generous explain our tolerant and understanding attitude, the value of sharing, sincere contributions, dialogue and cooperation.

Corporate Social Responsibility - CSR
Webstep is located in Norway and Sweden. We are very well established within our cities and we have professional relationships in various business areas, markets, nongovernmental organizations, partnerships, and the society. Our relationships are built on honesty, respectability, and trust, and our values help create great development within our society and businesses.
The services we develop and deliver both to public and private organizations provide significant help and are of great importance socially and professionally. We turn critical community tasks into reality, such as within health, transportation, tolls and customs, and within accounting, electrical power, pension and retirement, and justice administration.
We cover most industries and we provide expertise and great capability to key players in for instance the food industry, banking and financial institutions, oil and offshore operations, power and energy, and to telecom and organizations in the software industry.
We care about our work environment and employee rights, terms and benefits, and the opportunity for growth both on and off work. We believe our employees thrive in an environment built on trust, with the opportunity to make a difference, and freedom to take responsibility and make mature decisions in the best interest of oneself and the organization.
CSR: Agreements and Guidelines
Our work agreements and guidelines emphasize ethical behaviour, strong data security, and encourage excellent financial and practical business practices. Webstep's policy on anti corruption and our commitment to data security are essential when it comes to our relationship with clients, suppliers, and partners.
Award Winning work environment
Webstep is locally present with an award winning work environment while also emphasizing a healthy work/leisure balance. This flexibility is an encouragement to our employees to support volunteer work and non profit organizations while also being environmentally aware in all our actions.
Webstep is about redefining the rules of the game, carefully choosing our employees, with high focus on a solid education, relevant experience, and a social persona.
The result? A 'big little company' – we are big due to our large number of excellent employees and our ability to deliver, and small due to our local closeness tailored to their markets and with a unique work environment and culture.
Webstep is tailored towards digital transformation (digitization), customer satisfaction, and proud consultants, who feel at home.
The startup phase 2000-2003

During the beginning our focus was to build and shape an innovative, seamless and efficient IT consultant firm made up of competent people. The idea was that a company consisting of senior consultants would easily succeed in both hiring the best and ensuring that our clients work with the best. A company built on an excellent working environment combined with returning customers was a recipe for success. And it worked.

By 2003 the work model was in place and the company was growing accordingly with excellent results. Our focus was sales and customers, marketing, and customer consulting and customer follow-up. It was now time to broaden our horizon.

Blooming as of 2004

Between 2004 and 2006 Webstep was established in several cities with Oslo being first, quickly followed by Stavanger and Trondheim. The same work model was utilized. Between 2007 and 2010 the Oslo office was divided into four different divisions based on our various technology- and market areas. A division for Java- and .Net  technology was created first followed by divisions for Business Intelligence and project- and testing management.

The acquisition of Diversify in 2012 in Sweden resulted in offices in Stockholm and Malmo and in 2015 Diversify changed its name to Webstep. In 2013 a division for Business Intelligence was created in Bergen and the following year a development department was in place in Kristiansand.

Digitized times – 2015 and forward

We live in a perfect era surrounded by anything digital and digitized. The tools, the experiences, and our ability to capture and restart everything is well established within Webstep and our strength is our ability to turn a customer's technical opportunity into a business reality. We live in and with the development of all technical opportunities.

In 2015 we added Internet of Things to our key focus areas which centers around the cloud, mobility, machine learning, robotics, analytics, and more. Our hands-on competence in technology, across platforms, and our close relationships with our clients, create opportunities. We live in the age of digitalization and Webstep is at the forefront.
For more information and contact